Getting Accepted to College DOESN'T Have to be Confusing and Stressful When You've Got the Newest College Admission Technology and a Powerful Team Working for You
&nbsp
Book A Consultation
Get the One-On-One Personal Attention You Need
Access expert hotline consulting. Get fast answers to your urgent admission questions.
Schedule Your 20-Minute Call ($120 per 20-minute call)
Reserve a full hour session with Dr. Bedor to work on your application strategy, essay topics, and other critical elements. Schedule your session to discover:
The secrets of creating a standout college essay (and the things that must NEVER go into your essay)
Expert Essay brainstorming & crafting, discussion of best fit colleges, etc.
The Big Ideas: Unique Leadership and internship opportunities you never thought of, that Admissions will love
How to best develop and present your talents: from theater, music, art, dance, and, journalism to athletics, debate, science research/poster display, engineering, entrepreneurship, intellectual endeavors and social entrepreneurship—all in a way that makes you pop off the application page and grab the attention of Admissions.
Strategy for creating the most interesting high school curriculum for your authentic gifts; best test prep; summer programs; and competitions and scholarships in your fields of interest.

Schedule Your Session Now ($360 per session)
You have the grades. You have the scores. But do you have Dr. B to ensure admittance to your dream schools?
Your essay and application worries are OVER.
Every one of your questions will be answered throughout the year on demand via email or phone Personally by our CEO (Dr. Bedor, Ivy League graduate, phi beta kappa with 25+ years of experience serving a high profile international clientele).
All your essays brainstormed and facilitated Exclusively by our CEO.
Plus everything involved in the BigIdeaConsult, crafted and followed up on with meticulous attention to detail throughout the retainer period (including how to write demonstrated interest letters to your admission officers).
National scholarship applications completed with you Personally by our CEO.
Call 800-559-1625 extension 1 for details. (Note: this is a top-tier offering and is priced accordingly. Serious inquiries only please.)
&nbsp
The Exceptional Applicant: For College Admission, You Don't Have to Be Perfect. You Just Have to Be Original.
Big Shifts in College Admissions Ahead! College Acceptance has changed in big ways since the pandemic, and you need to know how! Now, learn about the shifts in and strategies for a vibrant high school journey and college acceptance at your dream schools from nationally beloved and renowned Admissions advisor, Dr. Deborah Bedor. Just published by Advantage Press. Get your copy and the free bonus materials now.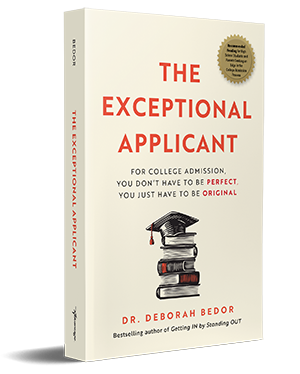 Stressed About Your College Application?
Confused? Overwhelmed?
It's not your fault. Every single student applying to college feels this way…
But, for you, it can be a totally different experience. As a client of College Admission Central, you'll have access to our exclusive College Acceptance Success System™. You'll know exactly what to do (and NOT do) to get accepted at competitive universities. You'll be in control of the application process. You'll get admissions advice and guidance from caring, hands-on ivy college consultants. The result: much less stress, greater clarity, and the confidence that comes from working with true professionals.
Some families pay up to $25,000 a year to elite private admission consultants (like College Admission Central's CEO, who for 25 years has guided every client to acceptance at one of their top 3 schools).
BUT…
what if there was a way for you to get most of the benefit of working privately with a top coach for a tiny fraction of the cost? Well, there is.
The savings comes from intelligently combining technology—mobile & web apps, proprietary databases, video, and multimedia tools—with the irreplaceable human element. Only College Admission Central has perfected this approach, all based on our CEO's ivy and top tier acceptance strategies. Our College Acceptance Success System delivers everything you need for a winning application, on demand, for pennies on the dollar compared to consultant rates.
Tools for Acceptance
Explore The Essential Tech & Info for a Successful College Application:
#1

Get Your Big Idea Game Plan

AdmissionMap™ Gives you a step-by-step winning acceptance game plan and strategy. Modules cover high school course advice, test strategies, target college selection, big ideas for leadership opportunities, developing your talents, and more.

#2

Write Your Traffic-Stopping Essay

EssaySuite™ is a total system to brainstorm, craft, polish, and organize your essays. Includes exclusive sample essay critiques by AP English teachers and admission experts.

#3

Create & Present Your Stunning Multimedia Résumé

ResuMotiv™ Creates and presents your eye-catching multimedia résumé. Conveys your personal story and accomplishments VISUALLY in a beautiful, professional format to impress admission officers and scholarship committees.
---
Works for Every Student
Students with Concerns

Not sure you've got the grades for college? Think you can't afford college? Looking for great test-optional colleges and universities?

We Help Figure it All Out!

Top Ten Percenters

We have experts that specialize in working with students seeking admission to the most elite schools in the nation. You need to get organized, create your unique resumé, craft stellar essays with a compelling voice, find your uncommon flag, leverage your extra-curriculars, and elevate your application to become the one Admission Officers can't put down.

We Help You Do That!

International Students

This is what you need to do: prepare for SAT and Subject Tests (given six times a year overseas); research your college choices regarding majors; campus environment; clubs; international community on-campus; contact the international student advisor at these colleges. This is what we'll do: empower and guide you through the difficult U.S. college application process and its challenging essay requirements… to successfully communicate your character, your academic passions, and your reasons for wanting to study in America — with your voice and with your conviction.

We'll Help You Reach for that Dream!

Learning Challenges

You need to determine the available support on each campus for students with learning challenges; find which tutorial programs are available; determine how the faculty makes accommodations for different learning styles; and find college scholarships for students with disabilities.

We Help Level the Field for You!

Athletes

To win at admission, you need an acceptance coach! We are that academic and application resource. With our team behind you, you'll learn how to prepare for that college athletic coach conversation; evaluate if your athletics will interfere with your academics; determine if you are being considered for a scholarship; create and provide the supplementary materials to help expedite evaluation (e.g. the 5 minute video); and proactive behavior that can best lead to recruitment.

We Help You Take it All the Way!

Fine & Performing Artists

You have the talent. Now, your greatest challenge is to effectively showcase yourself and your work to the busy, overworked Admission Officer, Selection Committee, and Dean. Remember, you're competing against many other very talented artists and performers for a limited number of opportunities. You MUST set yourself apart and get your special abilities recognized by the only people who matter when it comes to your Acceptance.

We Help You Stand Out!
What Students Say
My only problem after working with College Admission Central is that I got into ALL of my Ivy League choices and now I have to choose!

I even got a letter back from an admission officer, saying that my ResuMotiv presentation was 'the most beautiful he had ever seen.'

…amazing advice and strategizing, creative and brilliant essay guidance, on-demand counseling for important questions that inevitably come up, and very cool technology.

Thank you so much for all of your help! This wouldn't have happened without you, and I appreciate your guidance so much. I'm so happy to be a Golden Bear next year, and can't wait for all the adventures to come!

When I asked my guidance counselor for help in presenting myself to top colleges and conservatories as a performer-a classical singer-she said 'Well, I can't help you there.' I am so lucky to have found College Admission Central which gave me the guidance and tools I needed to set myself apart from a talented applicant pool and present my performance career to my dream school. Thank you so much!
---
Discover All the Benefits
College Admission Central exists to serve your interests, providing you with the essential resources and support that's required to gain acceptance to college. We invite you to join our community today to begin reaping all the benefits.