Personalized Admissions Consulting and Coaching
For individualized attention and customized services, or guidance with special circumstances and non-traditional schooling concerns, AcceptanceMentor services are available to you to supplement all the tools and services offered at College Admission Central.
Bringing decades of experience and admission expertise, College Admission Central's senior advisors will work with you one-on-one to design and execute your total package for admission.
In your one-on-one AcceptanceMentor sessions, you'll discover how to leverage your unique skills, talents, intellect, experiences, and personality to set yourself apart from the pack.
A Common Problem With The Traditional "College Advising" Machine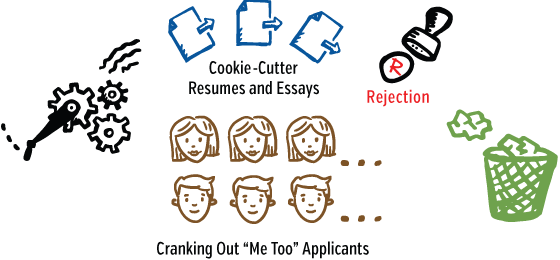 The Problem With The "Cerebral Approach"

Solution: The Humanistic Approach

Insightful & Powerful BIG IDEAS for Every Student
Whether you're dreaming of the Ivy League, worried you don't have the grades for college, or hoping to find the right school environment for your happiness and future career goals, these consultations will set you on a solid path for success. The insights you'll gain each month will save you time, help ensure the right high school schedule and college choices, and provide clear guidance as you navigate the exceptionally challenging path from high school student to incoming college freshman.
Grade appropriate consultation is provided for freshman through senior year.
Including These Essentials:
Selecting appropriate courses for your specific college plans (AP vs. Honors, etc.)
How the college admission office expects you to maximize your talents.
Which "extras" to send as valuable supplementary information to admission officers.
Which extra-curricular activities are viewed as highly desirable.
How to find great leadership opportunities in fields that matter to you — inside and outside of school.
Which summer programs will get you noticed.
Internship guidance.
Strategies for varsity athletes.
Determining the best college environments for your pursuits.
Winning the most sought-after scholarships and awards.
How to craft the essays and applications for national and international scholarship competitions.
Test-taking strategies, and the way standardized exams are viewed in 2014.
Brainstorming and perfecting your personal statement and supplements.
And more…
AcceptanceMentor picks up where your guidance counselor leaves off — crafting your unique application package and providing truly personalized attention.
All your life has led up to this moment. Your college dreams are about to come true!

Now it's time for customized guidance and help from the experts who know exactly how to get you accepted.

Your success and your future depend on what you do now. Everything is riding on this.
If you've priced-out college admission consultant fees, you know that charges quickly run into the multi-thousands. Many big-city consultants charge five figures. But now you can tap into that high caliber of personalized advice, coaching, and guidance on demand.
ResuMotiv
AdmissionMap