Until recently, there have been no great advances in the way high school students prepare for college. Just about everybody does the same thing in the same way: students go to see their school guidance counselor, consult big college directories, sit in review classes, study for various standardized tests, and maybe work one-one-one with a private college advisor if they can afford it. Aside from filling out forms online rather than on paper and receiving decisions through portals that have traffic jams at 6 p.m. on "decision day," not much is different in the application process from the time (long ago!) when I applied to college.
Well, that's what College Admission Central set out to change—in a really big way. We've developed new tools, apps, and information delivery systems to enable students to affordably get the help and guidance they need on demand, whenever and wherever they need it. Every student has the right to learn how to put his or her best foot forward in the admissions process! If you want to learn about today's college admissions rules and what it takes to get noticed by your schools of choice, please read on. The following tools will help you get the advantage you need because these admission tools were designed to democratize the admissions process and guide students for pennies on the dollar of what it would cost to work with an admissions expert. Hope they help!
AdmissionMap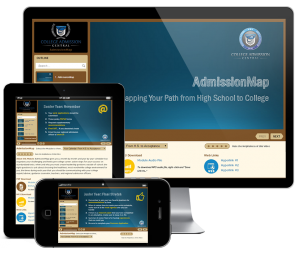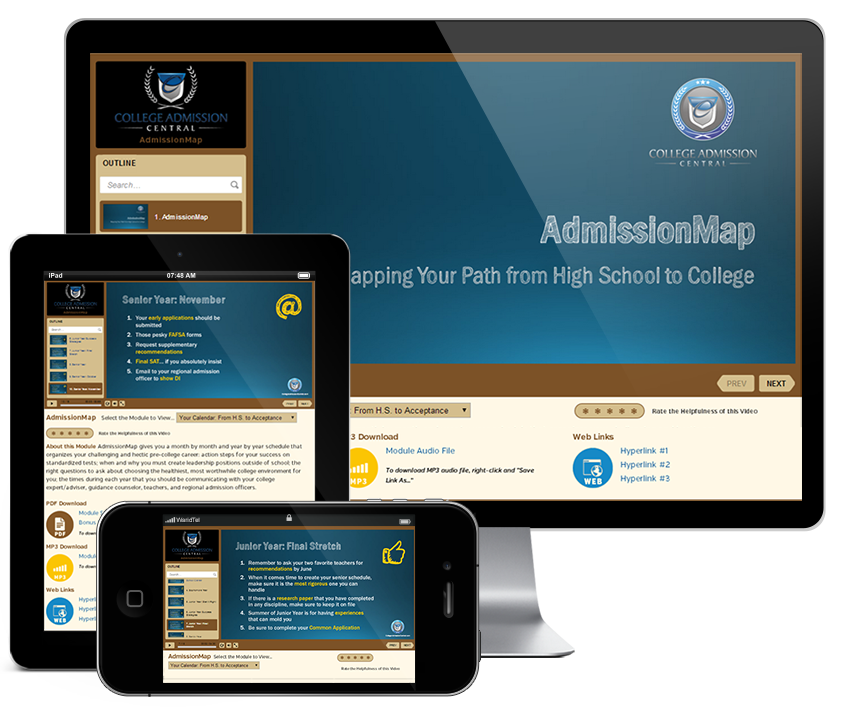 The first tool I'm going to highlight for you is called AdmissionMap™. AdmissionMap is a "GPS for college application" that will navigate your path from high school to college. It contains nine multimedia modules to guide you along that stressful but exciting adventure:
Your Calendar: From High School to Acceptance
Things Admissions Won't Tell You
College Admission Action Plan
Choosing Your College
Template Letters
Big Data and the New Admissions Game
Mastering the Interview
Selecting the Best Safety Schools
Résumé and Senior Summer Skills
AdmissionMap is like having a highly experienced, caring college coach at your side, giving you the insider tips and essential strategies you need to win at the admissions game. College Admission Central's exclusive technology delivers this information to you, exactly when you need it most. View the modules on your phone, tablet, computer, or any Internet-connected device, and download the notes, supplements, and audio podcasts for offline review. Each module is logically divided into chapters and slides, giving you random access to any element through the intelligent interface. There's nothing else like it available anywhere.
EssaySuite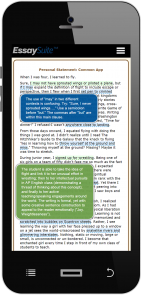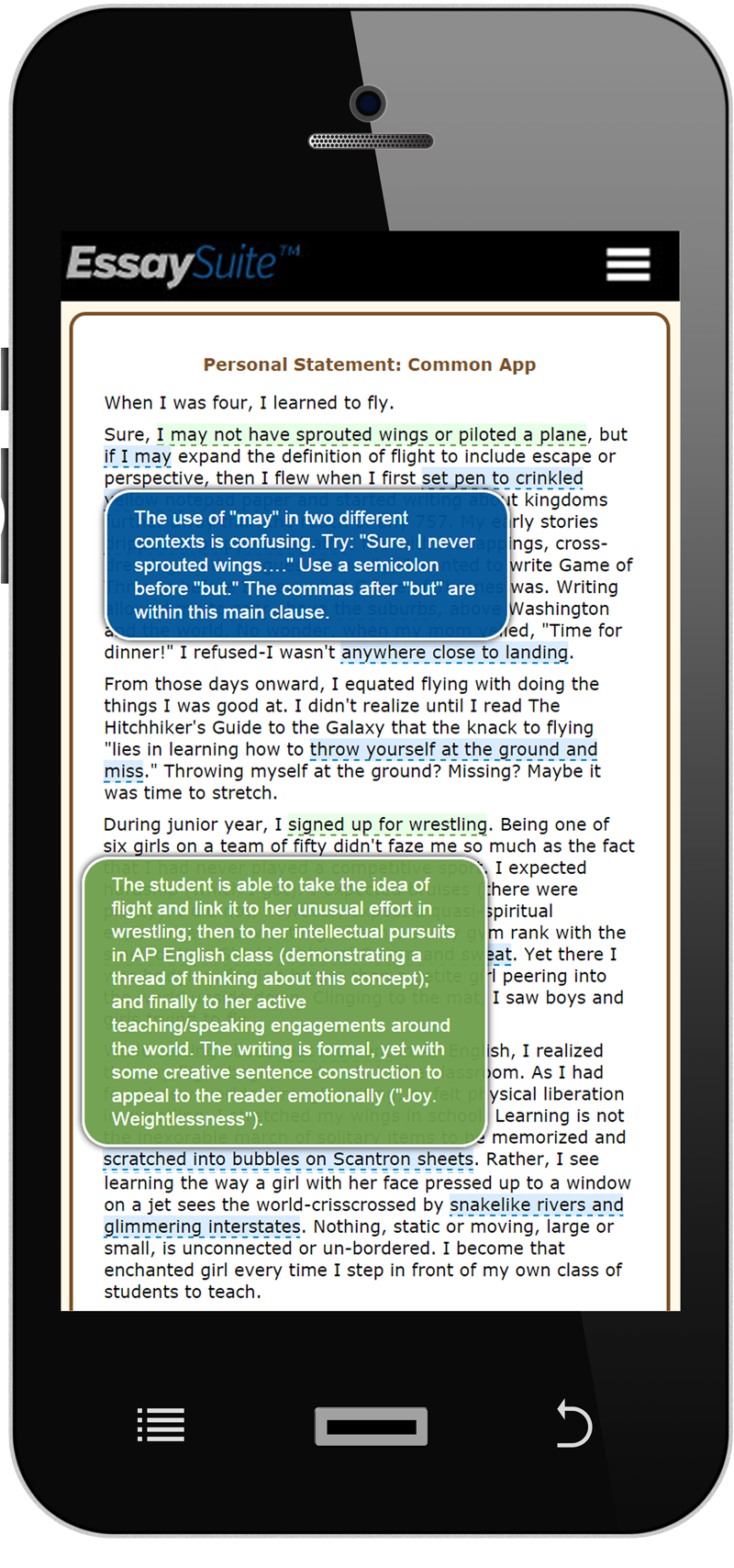 Many students feel that the most challenging aspect of applying to college is writing a standout personal statement and preparing all the supplemental application essays for each school. To begin with, essay writing doesn't come naturally to everyone. To make matters worse, there are special "rules" that apply to application essays. That's why, each year, parents pay thousands of dollars to essay coaches and editors to help their kids develop winning essays.
At College Admission Central, we wanted to provide a more economical alternative for our clients. That's what led to the development of our groundbreaking technology product EssaySuite™. As its name implies, EssaySuite is a collection of tools and resources to help you brainstorm, draft, and polish a powerfully unique personal statement and prepare your supplements. There are three main components:
(1) Essay How-To Guide. A comprehensive multimedia resource with modules covering the essential aspects of essay prep:
Brainstorming Your Essay
Starting and Ending Your Essay
Choosing Your Essay Topic
Perfecting Your Essay
Application Essay Examples
Short Answer Questions
The Why Essay
(2) Grammar Tips. A concise reference of the special grammar rules that apply to college application essay writing.
(3) Essay Critiques. Winning essays deconstructed by an admissions expert and an AP English teacher, showing you exactly how and why these essays helped secure admission to some of the most selective colleges.
We have many more exciting and accessible tools available, and I will highlight them as the summer unfolds. In the meantime, learn the most valuable tips for the next great chapter of your life, and start writing your personal statement. Start early. Finish early. Less stress for you and your family! Congratulations on becoming a high school senior!
Leave a comment
You must be logged in to post a comment.